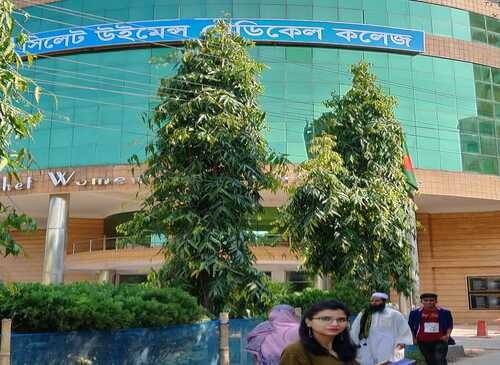 Sylhet Women's Medical College Bangladesh is a private medical college in Bangladesh, established in 2005. It was built entirely for female students. It is found in Mirboxtola, in central Sylhet. SWMC is affiliated with Shahjalal University of Science and Technology (SUST) under the School of Medical Sciences. Sylhet Women's Medical College and Hospital is a place of the art teaching and medical facility with a 3 high-rise building built on 130,000 square feet of land in the heart of Sylhet.SWMC provides a 5 (five) year program of study directing to a Bachelor of Medicine, Bachelor of Surgery (MBBS) degree. The unique architectural design of the college building makes Sylhet Women's Medical College and hospital very special.
After passing 12th grade everyone is wondering what next? If you are a science student then choosing Medical Sciences is one of the best options for your great career. Then a question will arise why medicine? Medical Sciences is an academic degree involving the study of a combination of domains related to human health leading to a deep knowledge of human biology and related research skills such as study design, statistics, and laboratory methods. Such domains include biochemistry, cell biology, physiology, pharmacology, or psychosocial aspects of health. It is a comparable level qualification to the more commonly awarded Bachelor of Science (BSc).
After knowing a lot about medical science then arise a question where to? The students who are are interested, studying abroad is a very good option. There are many benefits of studying medicine abroad even if in India we have plenty of Universities that offer medicine and also have an equal amount of chances if we are planning to study University abroad the chances will be even more. This even paves the way for acquiring better language girls and meeting new people. Bangladesh offers medicine seats for students all over the world.
Sylhet Women's Medical College Bangladesh follows the same Indian Medical Council syllabus. Not only the syllabus but the same Indian author books and journals followed in full five years of MBBS program The students from India can study confidently in Bangladesh because MCI (Medical Council of India) approved MBBS Degree in Bangladesh. Bangladesh also got the same tropical climates like India. The medium of teaching and class lectures are all in English this can increase the communicative skills of students. All Medical colleges in Bangladesh are attached to their Hospitals. Hospitals with a minimum of 500+ or more bedded hospitals with a very high occupancy rate. Students who complete Medical Degree from Bangladesh have a higher percentage of FMGE Passing rate.
A one-year internship after graduation is Discretionary for all Indian Students. The degree is recognized by the Bangladesh Medical and Dental Council. The duty of Sylhet Women's Medical College and the hospital is to offers high-quality, medical education to all students, be the fundamental teaching hospital in Sylhet and give training chances for nurses and allied health care professionals as well as to furnish the setting for ongoing clinical research that enables bring medical progress from the laboratory to the patient's bedside; and to assist the community as a public health advocate and give support and assistance which react to the area's health care needs through health education, health promotion and access to care.
Medical education at Sylhet Women's Medical College Bangladesh is an Important Responsibility. Sylhet Women's Medical College and hospital have long been associated with medical education. It is a part of the students' mission to assist in the training and education of superior physicians who will have a broad knowledge of medicine, excellent technical skills, and mature, informed judgment.
Sylhet Women's Medical College Bangladesh value the different extent teaching brings to our assistance as a community hospital. The capacity to give their patients the latest in medical knowledge and mastery, and the vibrant medical environment which only teaching organizations possess, are substantial enhancements to the care Sylhet Women's Medical College Hospital Sylhet.
If you decide to complete your Medical Studies at Sylhet Women's Medical College, you will be given a different experience. You will be a significant part of a community hospital that delivers not only substantial clinical disclosure to an enormous expanse of medical problems but also the chance to encounter meaningful stakes with patients and their families. You will also admire the scholarly incitation and development that comes from giving attention to, and correlating with, many of the supreme medical experts of our day.
Sylhet Women's Medical College" offers 5 years MBBS course approved by BMDC, MCI, WHO, Govt. of Bangladesh. Affiliated by the Sylhet Medical University, recognized by Bangladesh Medical & Dental Council (BMDC). Sylhet Women's Medical College has long been associated with medical education.
(Online /Direct Admission & Seat Confirmation)
FOR ADMISSION AND OTHER QUARRIES, CONTACT:
Authorized Representative
HEAD OFFICE :
DHAKA, BANGLADESH.
MOBILE & WHATSAPP: +88-01995529533
---
OFFICES IN INDIA:
MOBILE & WHATSAPP: +91-9903355537
WEST BENGAL, MODON MOHON STREET, KOLKATA,
PATNA, BIHAR, DELHI, JAMMU & KASMIR,
HYDERABAD, LUCKNOW, CHENNAI, AND GUWAHATI.